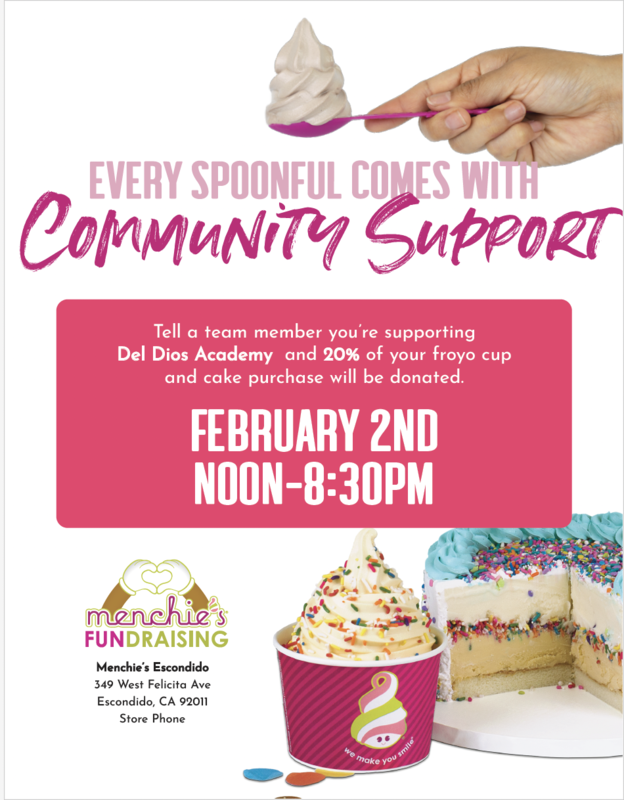 Hello Dragon Families,
Last Friday progress report cards were mailed home. Please look for them to arrive tomorrow or Tuesday. If you do not receive it by Wednesday please call the office.
This Thursday is our next PTA fundraiser at Menchie's Frozen Yogurt on Center City Parkway and Felicita near Vons and Panda Express. Stop by between 12:00 - 8:30 and grab some delicious treats. Twenty percent (20%) of all purchases with a flyer come right back to Del Dios. Thank you for your support.
This Thursday is also our first ELAC meeting for our parents of English Language learners at 7:00 on Zoom. Look for an email about that meeting to come out soon.
When dropping off or picking up your child in the solar parking lot, please use the outside lanes to drop off or pick up your child and not go down the middle of the parking lot. Dropping your child off in the middle makes them walk through the parking lot where cars might hit them. The safest place for them is the curb with immediate access to the sidewalk.
Well, that is all for now. Staf safe Dragons!
Hola familias de dragones,
El viernes pasado se enviaron a casa las boletas de calificaciones de progreso. Por favor busque que lleguen mañana o el martes. Si no lo recibe antes del miércoles, llame a la oficina.
Este jueves es nuestra próxima recaudación de fondos de la PTA en Menchie's Frozen Yogurt en Center City Parkway y Felicita cerca de Vons y Panda Express. Pasa entre las 12:00 y las 8:30 y disfruta de deliciosos bocadillos. El veinte por ciento (20%) de todas las compras con un folleto regresan directamente a Del Dios. Gracias por tu apoyo.
Este jueves también es nuestra primera reunión de ELAC para nuestros padres de estudiantes del idioma inglés a las 7:00 en Zoom. Busque un correo electrónico sobre esa reunión que saldrá pronto.
Cuando deje o recoja a su hijo en el estacionamiento solar, use los carriles exteriores para dejar o recoger a su hijo y no vaya por el medio del estacionamiento. Dejar a su hijo en el medio lo hace caminar por el estacionamiento donde los autos podrían atropellarlo. El lugar más seguro para ellos es la acera con acceso inmediato a la acera.
Bueno eso es todo por ahora. Dragones seguros para el personal!